Our staff enjoyed specialized training in Bonide products that we will carry for your gardening needs.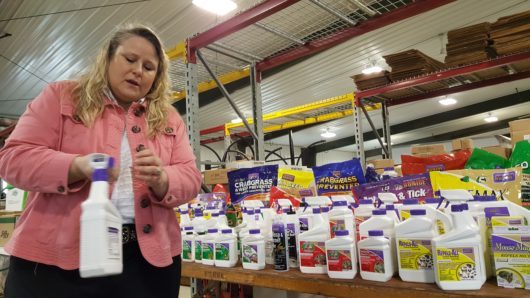 We are so excited we will be able to offer you plant and pest treatment options with our excellent microsope and the ability it will give us to help you diagnose problems.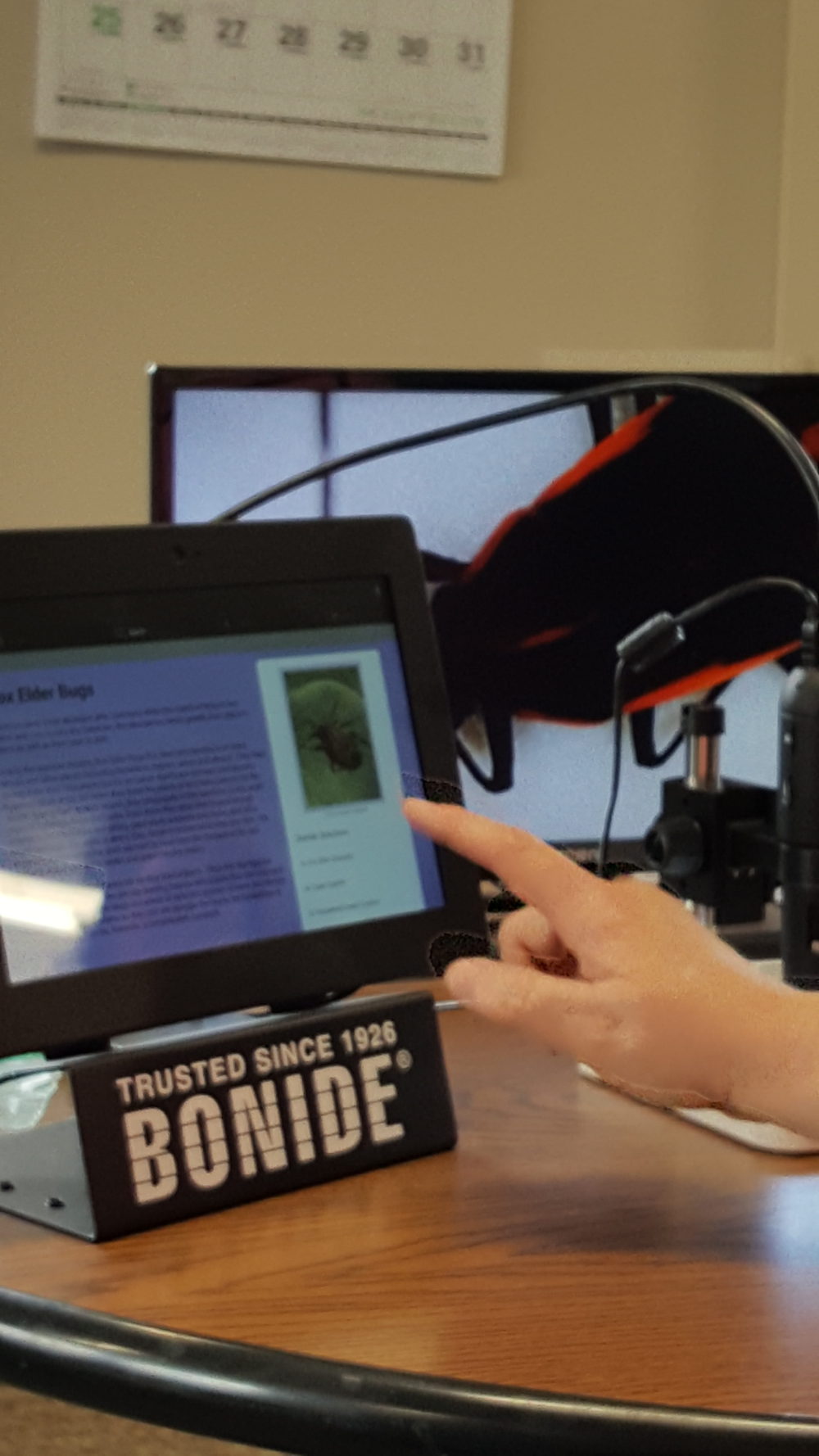 Displayed to the left (behind her hand) is a microscope focusing on a box elder bug, and the magnified details are shown on the computer screen in the background. We can then go to Bonide's catalog and search for products that eliminate box elder bugs.
If you bring in a rose leaf with black spots, we can look at it under the microscope, then search through the Bonide catalog for what the likely source is - Black Spot is definitely something roses suffer from.  If the damage is "roughly circular black spots with ragged yellowish borders appear on the leaves. In many cases, defoliation occurs." The catalog gives us several suggestions for products both organic/natural and regular chemical products that can be used as well as additional instructions. We will carry both and recommend the organic when it is at all possible.
We carry the trusted brand Bonide for your plant, pest, insect treatment products. Bonide celebrates their 90th anniversary this year. That is trust that has been built over the years with reliable products.
Are you interested in Organic Gardening, look to Bonide "For Organic Gardening"  logo. Some of the products we have are:
All Seasons Horticultural & Dormant Spray Oil
Burn Out
Captain Jack's Deadbug Brew
Bug & Slug Killer
Copper Fungicide
Liquid Copper Fungicide
Neem Oil
Insecticidal Soap
Rose Rx 3 in 1
Sulfur Plant Fungicide
We recommend Bonide's Root & Grow Root Stimulator & Plant Starter Solution (4-10-3) every time you plant trees, shrubs, roses, annuals and perennials to stimulate early root formation and stronger root development. Root Stimulator reduces transplant shock and promotes greener, more vigorous plants. It is easy to mix: 3 ½ tablespoons per gallon of water for flowers, shrubs and trees.
We offer a wide range of repellents, insecticides, and pesticides that will help to protect your plants and flowers from harm. Our range is made up of animal repellents, insect repellents, and bug killers. Whether you have a slug problem or are tired of snails wreaking havoc on your garden, we'll have the remedy. We offer lots more products to help keep your garden at its best. Browse our ranges of fungus and disease control, weed control, and fertilizer too.