Houseplant of the Week || Christmas Cactus
Christmas Cactus actually thrive in cooler temperatures! They can live 20-30 years. Keep away from heat sources. Keep in a cool, draft-free place. Optimal temp is 68 degrees. Christmas Cactus need their beauty sleep; they are short-day plants, meaning they bloom when nights are at least 14 hours long and daylight periods are between 8-10 hours for 6 weeks. Overwatering will kill them; they like to be misted daily to maintain humidity around the plant. Water only when the soil is dry to the touch. They will flower if exposed to prolonged cool temperatures between 50-55ºF. No flowers will form at night temperatures above 68ºF regardless of light length.
They are NOT toxic to dogs or cats! After flowering, place plant in a cool area (60º-65ºF) and water sparingly until spring.  Water the plants more frequently during their active growth period from spring through summer. Also, fertilize Christmas Cactus about once a month during the growing season.  In the fall, place plants in a cool location (60º-65°F) that receives only natural daylight.  Flowering should occur naturally with plants blooming sometime between late October and January.
Christmas Legends: Brazil is the cactus' native land. In the scorching heat and humidity of the jungle, a young boy is said to have prayed to God asking for a sign of Christmas. On Christmas Day the jungle was filled with the flowering cacti overnight. The other legend is from Bolivia and a Jesuit missionary, Father Jose, who worked tirelessly to convert the natives. He cared for the sick, worked to improve their inadequate dwellings and attempted to teach them the story of the Bible and the life of Jesus. He didn't think the was making much progress and the natives were still suspicious. Christmas Eve found Father Jose alone, praying. He heard people singing a simple hymn he taught the natives. There was a procession of the children carrying armfuls of blooming green branches (Christmas Cactus) they had gathered in the jungle for the Christ Child. The Christmas cactus still blooms each winter with its message of faith and hope.
Question about your houseplants, contact Heather @retailblooms@gmail.com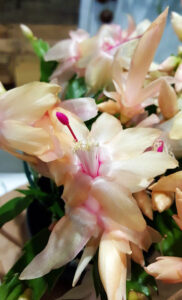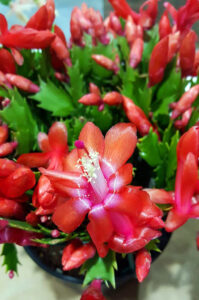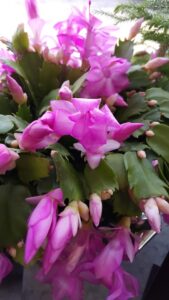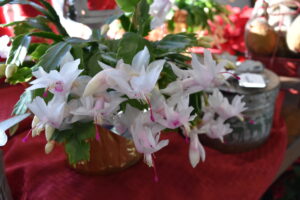 If you have concerns about your plants, trees, and/or shrubs, please come on in or email a question to:
Lisa #lisa@bladeworks2020.com
Nick #nurseryblooms@gmail.com
Taylor#perennialsblooms@gmail.com

Many of our family members have served in the military - we appreciate you and the sacrifice your family has made. Thanks from the BLOOMS family!